Welcome to America's Boating Club®
Manatee Sail & Power Squadron
The City Of Bradenton & Manatee County
Manatee Sail & Power Squadron/America's Boating Club of the City of Bradenton & Manatee County
The United States Power Squadrons® is America's Boating Club®. We are a nation-wide boating organization that is structured into over 30 districts with over 300 squadrons that are geographically associated, including Puerto Rico and the Virgin Islands. We learn together, boat together, and help each other and other boaters on the water and on land. Our members learn boating skills, engage with boating friends, and connect with the boating community.
America's Boating Club, City of Bradenton and Manatee County is located on the west coast of Florida. Part of our core mission is the promotion of boating safety through education. We offer very comprehensive public boating education classes and/or seminars to the boating community. You are invited to look at our Education page for Educational opportunities.
Our club also provides free Vessel Safety Inspections (VSC). VSC are on a volunteer bases but offer the boat owner a second set of eyes in helping them comply with federal and state safety rules. Upon a satisfactory VSC, the boater owner receives a VSC decal to display on his boat. This service is offered in partnership with the U.S. Coast Guard Auxiliary and supported by Boat U.S.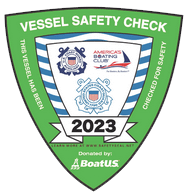 Our meetings are held on the First Tuesday of each month at 1900 (7:00PM) at the Palmetto Elks Club. Membership in our Squadron usually begins when you sign up and complete one of the "America's Boating Course" classes. During the class you will learn about safe boating, interact with other students, squadron/club members, and learn why our Squadron is "The Fun Squadron".
The members of the Manatee Sail & Power Squadron enjoy an active lifestyle that includes an enthusiasm for safe boating, the joy of gatherings with friends and a genuine love of sharing fellowship in a wide range of interesting activities. We are known as the "fun squadron" and it shows in everything we do! We are committed to improving our skills and knowledge through the education courses the squadron offers. We are equally committed in giving back to our community by offering safe boating classes to the public and various boating groups. In addition, we help a several community service organizations.
If you were to ask me why our organization is so successful and continuing to thrive, my answer would be, "If you promote our core values, attract good people who enjoy doing fun activities and enjoy supporting their communities, then you will have a winning organization."
August 
Aug 20 – Munch Bunch
Aug 27 – Sep 4 – National Conference
Aug 31 – Shell Key Preserve Beach Party
September
Sep 5 – General Meeting
Sep 14 – 17 – Twin Dolphin Cruise
Sep 16 – Reef and Beach Cleanup
Sep 17 – Munch Bunch
Sep 30 – ABC Course
October
Oct 3 – General Meeting
Oct 13-14 – District Conference
Oct 15 – Munch Bunch
Oct 26 – Nov 7 – Fall Getaway